GOSH - A history (⚙️ in the making…)
by @cassandreces - February 2020

Notes:
- Hover over highlighted text to show comments
- Timeline keeps growing, come back for updates!
GOSH 2016 organizers
Aurora Thornhill (Kickstarter), Francois Grey (University of Geneva and CERN), Greg Austic (Michigan State University), Jenny Molloy (University of Cambridge), Marc Dusseiller (Hackteria), Shannon Dosemagen (Public Lab), Urs Gaudenz (Gaudi Labs)
GOSH 2017 organizers
Fernán Federici Noe (Pontificia Universidad Católica de Chile), Francois Grey (University of Geneva and CERN), Greg Austic (PhotosynQ), Jenny Molloy (University of Cambridge), Max Liboiron (Memorial University of Newfoundland), Shannon Dosemagen (Public Lab)
Scaling hardware, growing community
With the aim of growing the community, the next natural step was to hold the global gathering 2018 in Asia. After evaluating different options considering community feedback, OpenFiesta, an institute at Tsinghua University in Shenzhen (China) was chosen for the event. Following the same principle since the beginning, the hundred attendees of the event did not have to pay for travelling or for participating.
The first three days of the meeting were each dedicated to a section of the roadmap, with unconference sessions, workshops and project showcasing. The last day was reserved to a group session where everyone picked up and self-assigned concrete actions derived from the roadmap strategy to push further, which were documented in GitLab. A volunteer team was again responsible for documenting all sessions and activities online, plus managing audiovisual material.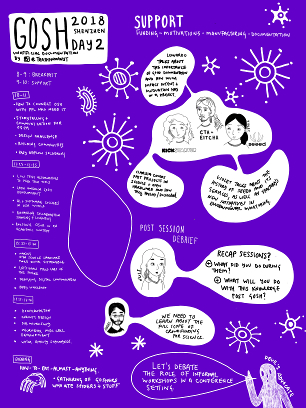 The public event was organized in X-Factory - a public-private space for prototyping and batch production - where community projects were presented and an art-science exhibition was held. Almost a tradition, pre and post gathering some GOSHers dedicated time to collaborative work and to visit emblematic local spaces such as the Huaqiangbei hardware market.
❝❞

We find maker sprit everywhere and it's quite easy to develop something and have a startup in China. But here [with GOSH] there is an opportunity, anyone can use these open source devices that contribute to science and to good.
GOSH 2018 organizers
David Li (Shenzhen Open Innovation Lab), Fernán Federici Noe (Pontificia Universidad Católica de Chile), Francois Grey (University of Geneva and CERN), Greg Austic (Our Sci), Jenny Molloy (University of Cambridge), Ji Li (Open FIESTA, Tsinghua University), Julieta Arancio (CENIT-CONICET), Marc Dusseiller (Hackteria), Shannon Dosemagen (Public Lab), Vicky Xie (Shenzhen Open Innovation Lab)
Distributed movement
During GOSH 2018 some organizers announced that there would not be a global event in 2019. The volume of volunteer work exceeded the capabilities of the small organizing team, and the growth of the community makes it difficult to gather everyone in one global event. After three years of global meetings and growing community, organizers decided to step back and propose some reflection on how to move forward more efficiently, so the strategy defined in the roadmap becomes real.
❝❞

We got to the point where we have to exclude people from coming to the meeting, half people couldn't come to this GOSH [2018], which is not the position we'd like to be in.
One of the proposals that emerged was to hold regional, decentralized meetings that keep the GOSH spirit alive and consolidate regional and local communities.
The first case of decentralization was AfricaOSH after GOSH 2017. In Chile, Thomas Mboa (Mboa Lab, Cameroon) and Jorge Appiah (Kumasi Hive, Ghana) met and decided to run a GOSH version for the African community, already in its third edition.
In Latin America, some GOSHers were already working together around a students' event of free/libre technologies for development, TecnoX. After GOSH2018 they secured funds until 2022 to promote a regional open science hardware network, which operates through a methodology of "GOSH residences" in different Latin American countries. In the residences participants spend three weeks replicating open science hardware designs with local materials. The first edition in Porto Alegre was a success, and will be replicated in Peru in 2020 under the theme of 'health technologies'.
❝❞

I would really like to see more projects, people working concretely on a project together, something that you haven't done before.
In Toronto, Canada, the first Great Lakes GOSH was held in 2019 with the aim of fostering collaboration and identifying ways to support participants and collaborate more effectively. The documentation of the three meeting days plus post hackathon can be found in the GOSH forum.
In Switzerland, GOSHers Europe met to organize a crowdfunding campaign to support work on the ReSeq project, or reuse of an old DNA sequencer to turn it into an open science hardware instrument. The campaign was a success and the work is currently in development.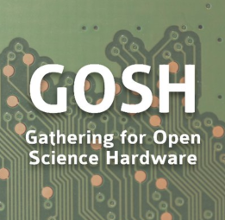 More recently, 2020 has already brought news: some GOSHers participated in the creation of an open hardware mentorship program, with the aim of providing support for open hardware projects in terms of best practices and connection to communities in similar fields. The first cohort is ongoing, featuring many open hardware projects for science.
Also in February, the University of Bath Open Source Hardware Group organized a 3-day workshop where participants explored the challenges faced when making open hardware in academic contexts and explored collaborations to address them.
Epilogue
There's a lot going on around open science hardware. More and more people join and see its benefits for research, education and environmental justice. Some universities are starting to see its benefits, policy recommendations appear in some publications, and even the European Union commission is discussing the topic.
What is the role of GOSHers in this scenario? Which governance structure is needed to gain momentum and push for change? Is there a need for one? Opinions are as diverse as GOSHers...
❝❞

[mass difference and moving together] mean a lot of solidarity work: I don't understand you, I can't deal with your accent and I can't understand what you're saying but I will believe that we're working towards the same goal, which doesn't necessarily mean that we agree.